Creative Ideas to Remodel Your Bathroom This Year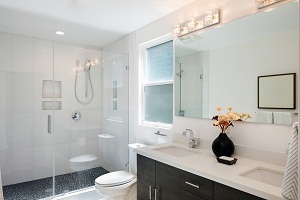 Bathroom renovations can appear to be simple in the beginning, but end up being stressful in the end, due to the sheer amount of choices you have with color patterns, tiles, shower doors, and decor. Considering the variety of possibilities, it can be hard to narrow it down. Below are a few beautiful, functional, and unique ideas to help you design the perfect bathroom for you and your family.
Mirrors
Start with the focal point of the bathroom, which is most likely going to be your mirror. While it may appear that mirrors don't offer much when it comes to design, there's actually quite a few things you can do to a mirror to spice up a bathroom. A frame or hanging mirror can give your bathroom a more dramatic look. You may want to play around with the placement of a mirror as well. For instance, a large, full-body mirror on the opposite wall of the sink can make a bathroom look much bigger. Then, you can put beautiful photos, plants, or hang towels over the sink. Remember, you don't have to place everything in their traditional places!
Shower Stalls and Doors
Think outside the box when it comes to your shower. Stark white subway tiles with teak or bamboo shower walls makes for a clean and zen-like finish. Clear shower glass doors instead of a shower curtain can open up the bathroom and make it seem much bigger than it is. Don't hesitate to consider all of the different raw materials, like marble, rock, pebbles, or wood to accent your shower designs.
Lighting
No bathroom renovation is complete without installing the proper lighting. You want to be able to see clearly over a vanity, but you'd also like the option of dimmers for late night, relaxing baths. Full bathroom remodeling in Spokane, WA. can go in a number of different directions when it comes to light fixtures. A dazzling chandelier, industrial exposed bulbs, or even just rows of automatic faux candles can add the perfect lighting as well as an amazing style.